Koss 2023 great big publication update—plus when Kali comes to straighten you out—replete with angry gods & convenient skip-to links for busy people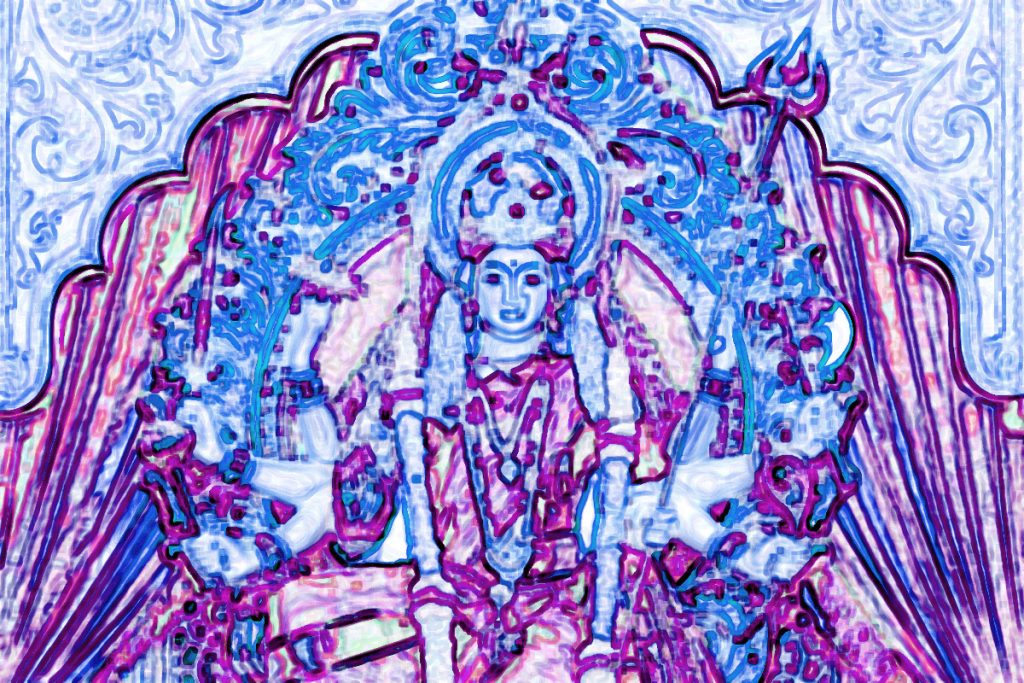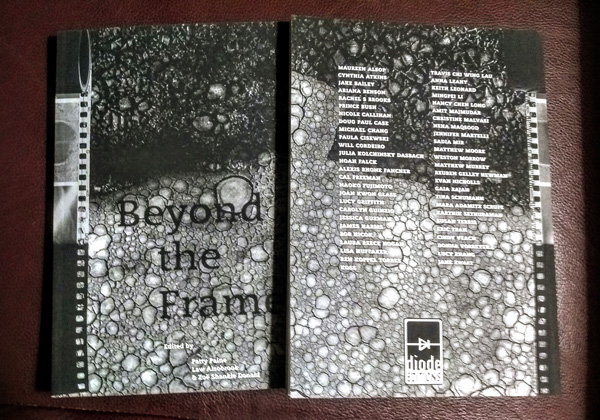 While I've been super-blessed with numerous publications recently (thank you, kindly, editors), the strangeness of this year has given me pause on all fronts including curbing my submissions and creative production. Of course, I've had worse years with more calamity—even recent ones, but this is like a cosmic tornado, kundalini-crisis-scale stuff where all you want to do is take a spring walk and the sky hurls shitting cows, canceled things, broken furnaces, and, of course, rejections from overhead, and mostly not the nice smudgy-ink handwritten ones that don't really feel like rejections. That was in another incarnation, actually.
You know you should take cover, but there are only vast roundup-laden fields in shades of faded VanDyke brown surrounding you—and no socialist-sexy-dyke-farmers-with-tractors sowing those fields. There's nowhere to hide from the insistent sky, its angry, driven gods and their secrets, and relentless unmet needs and bullshit. (Note I'm more at peace than I seem, but I like how this sounds. I'm sort of a writer, after all).
Whether this life shit is due to karmic debt, a cosmic bad hand, or just my own bungling is unknown, but we are living in the age of Kali Yuga, and things have not been easy. *If things are easy for you, and you have a success secret, feel free to leave it in a comment. Feel free to also indicate if Kali (the goddess) has chopped off your ego or the ego of someone you know. What might this even look like? Did you make awkward small talk after she did the deed?
From what I understand, Kali shows up for writers all the time. I saw a somewhat funny video by a healer (Tanishka) that implanted some of this imagery in my head, so I can't take full credit here, but Hindu goddesses have always resonated with me. So back to comments, please do leave them: Your comments remind me I'm not alone in the cyber void and WordPress is not really my personal diary after all.
My Submittable queue is sparer than my vegetable/fruit bins in my broken fridge, but it's okay. As I trudge through life sludge and sundry disappointments while worrying excessively about the predetermined and determined things, I know it's cool to take a break and reassess (what I tell other writers) where I've been and where I'm headed, and don't worry about me. I'm fine because I take ashwagandha. ;-).
*If you're here to find links to my recently published work, feel free to zoom down the page using my magic link and skip the details. Or check the summary above or click to scroll down to see some cool video poems from recent publications, losing winners, etc. When I feel stuck in life, I provide dizzying options for bouncing on a page, which is actually a lot easier in terms of movement—plus you can just sit there. *Hint, if you follow me on Instagram, I usually get around to posting there. I know it's the show-and-tell platform (do they do that anymore in school?), but rest assured, there won't be a zillion selfies in my car there. It's mostly art, poems, and other people's work I share.
If all this damn text scares you, I don't blame you—it fucking scares me too! Someone throw us a life jacket! This blog post was modeled after my grandmother's Canadian cousin Vera's family update letters that no one wanted to read, but that she sent out religiously after each annual camping adventure with that Texan dude she abducted after they both became suddenly single in their late 60s. Like the gods with their cows, she was determined in all the ways, which included driving her big RV across the continent, changing tires, starting multiple health food stores, practicing homeopathy (along with pendulum reading—plus other kinds of divination), and bagging conservative Texan widows she mistook for exotic, all while proselytizing religion (Reorganized Latter Day Saint). She was amazing really—in all the juggling, comical, and spectacular ways. He was, however, unremarkable and a know-it-all—which spared the rest of us from having to know or contribute anything to the get togethers other than food.
I realize something Vera didn't: Nobody likes to read, and the Book of Mormon is no exception to this fact (I say this as one who was raised Reorganized Latter Day Saint—the book is frightening—the decapitations especially—none of it stuck—I had my own "non-denom" thing going on, and yes, I realize Kali is not cuddly, but I just can't resist a sword-swinging goddess, as she showed me this year). Without friction, I accept the failure of our culture to appreciate words including RLS ones (also because I take ashwagandha). But I write anyway because I have compulsions and other things wrong with me. But why do you read?
What are you doing here, really? Do you know? Thank you for coming, regardless. I love you (really).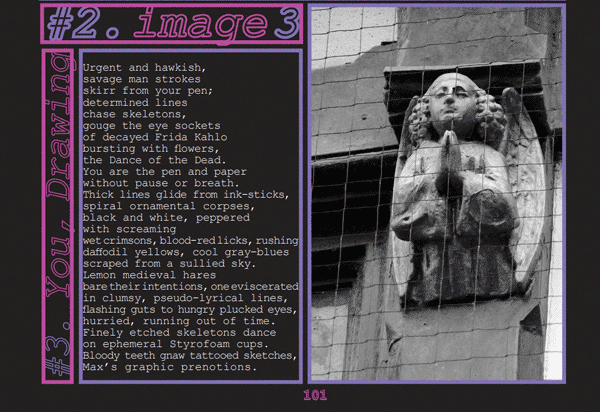 Despite my complaints this year, which I've really only dramatically hinted at, I'm blessed, like I said, to have some work coming out, so this post is, among other things, a gratitude post to those who had the kindness, discernment, and, in some instances, guts to publish my work. Again, the links are in a convenient clickable list below, not because I want you to go away, but because I love you enough to convenience you. I have work included in several anthologies this year, including Gut Slut Press's Bone Milk II, Bending Genre's Get Bent, and diode poetry's Beyond the Frame (an ekphrastic anthology based on Patty Paine's photos). All of these are fabulous! I'm so grateful to the editors and volunteers! The gut sluts at Gut Slut Press publish some really experimental and difficult work, and they can because they're gut sluts. One of my pieces is a sprawling, hallucinogenic, trauma piece, plus a photo and a reprinted piece called, "You Drawing," also published in Bending Genres.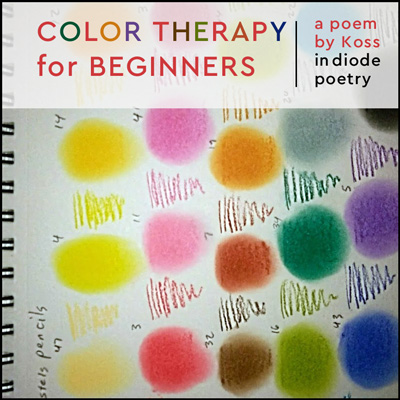 In journals, I have a range of micro, flash, poetry, photographs, and erasure art published or forthcoming. I had a sort of fun, yet strange, "zuihitsuish," poetic manual called "Color Therapy for Beginners" published in diode's 16th anniversary issue. Couldn't have written this piece without working a marketing job for years which included writing about organizing and decor and feigning interest in plastic yard rocks and chrome shelving. I'm hoping to write more pieces that riff off this past experience. I generally don't aim to write likable things, but this one should be a pleaser with straightish women, trans women, queers, toy collectors, and well, everyone.
I also had a piece published in San Pedro River Review (I'm so glad neither the Alfiers nor Patty Paine have grown tired of me). I made short videos for these. I know some might think it's grandiose to make videos and album covers for individual poems, but if you don't celebrate your own stuff, who will?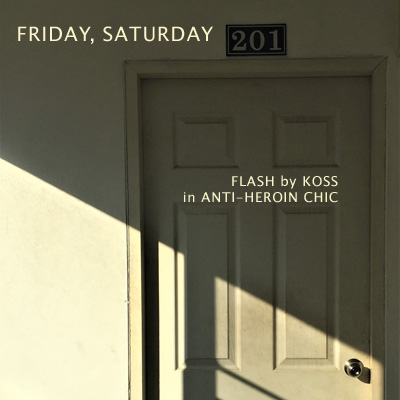 Anti-Heroin Chic published photos and one of my most important pieces, a flash, about suicide, "Friday, Saturday." This piece has garnered some mixed attention from good to really bizarre. As with previous suicide pubs, I immediately lost about 10 Twitter followers (talk about people not liking to read). The surprising twist though, Twitter friends were generous to share, and this piece is becoming one of my most-read pieces along with another piece published by Anti-Heroin Chic. So along with the usual unfollowing, I was really touched by the support. This was the last "must-publish" piece from this body of work. I'm sure I'll still need to write about grief and suicide loss, but it felt good to put the lid on this particular container. I'm so grateful to Dylan and James for this publication—and to Roy for the photo selections.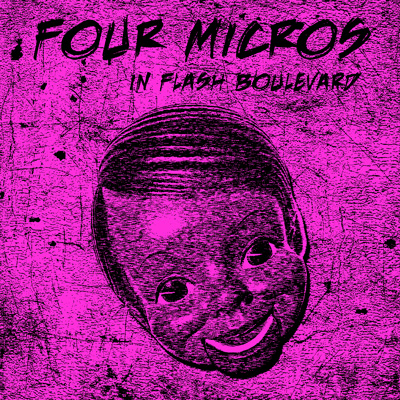 Flash Boulevard accepted four micro-ish fiction pieces. So grateful to Francine Witte for this publication, which includes grief, rats who are culinary experts, naked bosses, and ventriloquist dummies. These pieces span many years, so it's nice to see them share a page.
Also, I have work coming out any minute in Permafrost (the print issue) and (Re)An Ideas Journal (a Wuthering Heights erasure). Not sure about the dates. I thought March and April on these.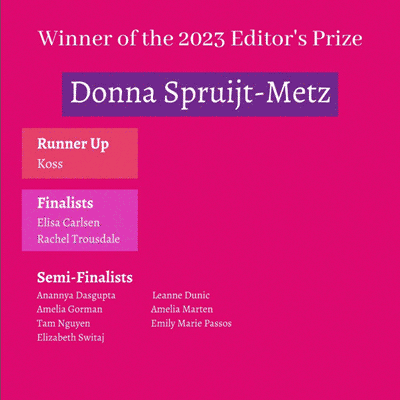 On other good notes, my micro-chap, tiny corpus was a runner-up/finalist in Harbor Editions contest. Congrats to Donna Spruijt-Metz, the winner, and all the finalists and semi-finalists. Ya'all should be proud. I decided to publish the poems in no particular order on Instagram (follow me to read them)—I post lots of graphics there, including most of my over-the-top "album covers" for my poems. I may illustrate them and publish a book at a later date, but right now, at least they are out there. All but one appeared previously in journals. The cranio poems in video below include a soundtrack that might induce a trance—or just put you to sleep.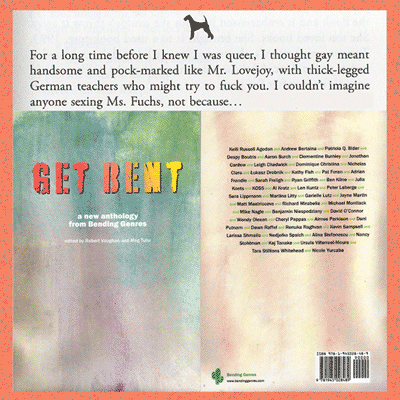 If you made it to this point, the rewards are below. Or maybe the rewards are scattered throughout. I'm not likely to write anything this long in the future, and eventually, I'll be posting short pieces about sundry things, including other people's work, which I have done a bit already. Also, I'm working on a gallery of artwork, just something basic. If you need cover art, illustration, or web design services, feel free to contact me using my web form. Thank you so much for stopping by. Without you, there'd be little reason to do this! Of course, I'm open to you proving me wrong about "no one likes to read."
Linkables
Anti-Heroin Chic, #CW, "Friday, Saturday"
Anti-Heroin Chic, "Photos"
San Pedro River Review, see video below
Bending Genres, Get Bent, "Fall of Toby and Lady," See original publication and purchase anthology
Flash Boulevard, four micro/flash fiction pieces
Gut Slut Press, Bone Milk II, see excerpts or purchase
diode poetry, Beyond the Frame, purchase
diode poetry (journal), 16th Anniversary Edition, "Color Therapy for Beginners"
(Re) An Ideas Journal, Wuthering Heights Erasure/Visual Poem (forthcoming)
Permafrost, Wuthering Heights Erasures/Visual Poems (due out in March?)
Moonpark Review, "The Short Lives of Wombats," (due out in June)
Video Poems
Publication in San Pedro River Review
Through the Body's Bramble (from tiny corpus)
Two Poems About Cranial Sacral Therapy from tiny corpus