Today is the anniversary of Max's suicide. She ended her life in 2018 as the solar eclipse hit London, at the tail end of the Lion's Gate, and during some ugly battles she could no longer bear to fight. She struggled with mental illness, but, in my opinion, she left the planet because people are cruel . . . Her life and her death mean many things to those who loved her, but in the most basic way, her death signals a call for kindness . . . I can't believe it's been three years. The missing today is sharp and new. It's like that.
The energy this year resembles the conflict the year she died (for me), with broken promises, devastations, stress, and turbulence, only contrasted with unexpected kindness, opportunities, and small occasions for hope . . .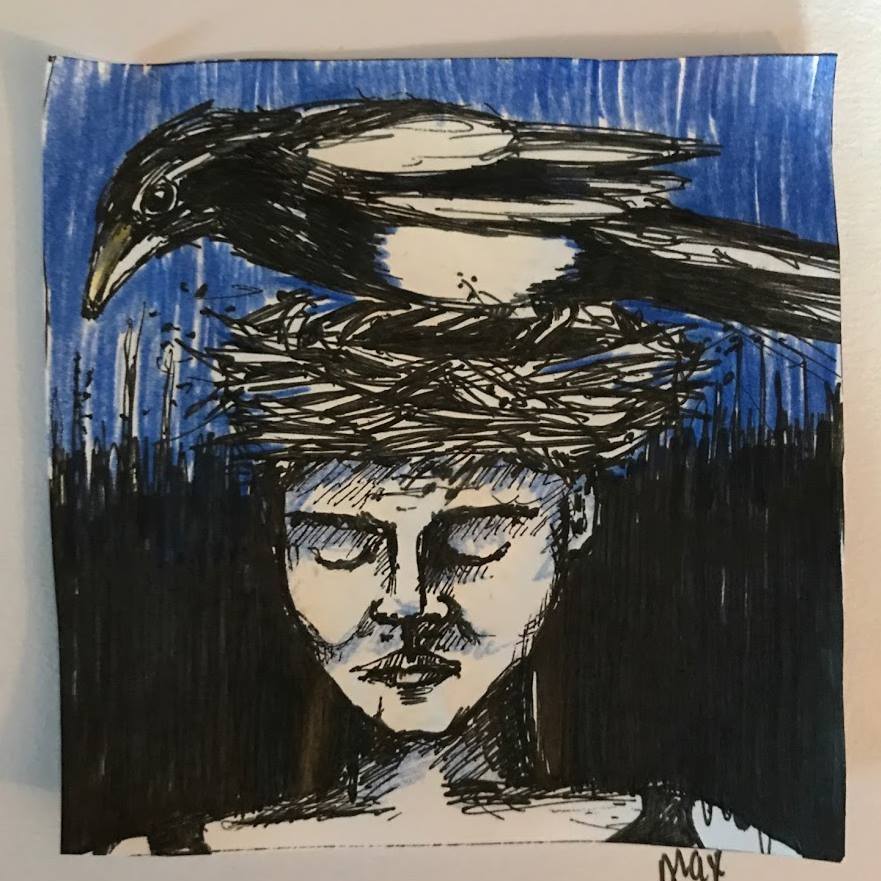 The press. who solicited the manuscript I worked on for nearly three years. canceled One for Sorrow, the book about Max. I'm not sure what the future is of this book, but maybe scattering her stories (and mine) through journals (online and print) is the best memorial.
I'm so grateful to so many journals and editors for honoring Max's life by publishing the work I wrote. Overwhelmed, really by the generosity of the editors and staff. Journals include Anti-Heroin Chic, Entropy, Bending Genres, Amethyst Review, Five Points, Spillway, Chiron, Prelude, Rat's Ass Review, Dreich, The Lumiere Review, Lunch Ticket, Dreich, Up the Staircase Quarterly, Hobart, Eunoia, Isacoustic, Harpy Hybrid Review, and Feral (I hope I didn't miss anyone).
James Diaz of Anti-Heroin Chic and Jessica Kim of the new journal, The Lumiere Review were courageous in publishing risky work and gave me hope about the manuscript when I most needed it. Entropy Magazine is also committed to publishing difficult pieces, and I'm so grateful to Janice Lee.
Bending Genres also ranks as one of the more open journals in terms of edgy content and I thank Meg, Robert, Sara, Sam, and the other editors for giving some of my work a home.
Over forty of the poems from the manuscript were published in some form. I'm not going to list all of them here, but here's an incomplete list if you would like to read them. Note that most of them have been cut and dramatically revised since these publications. The Haibun, published in Entropy was one of the first written but got reduced to short prose poems, with much of it taken out. Still, I liked the metaphor of the tourist because that is what we are as embodied humans.
The more tender pieces were published by Eunoia, Entropy, Up the Staircase Quarterly, and Amethyst Review. Some are stark and difficult (content warning). Many are epistolary. The actual manuscript has many photographs, erasures, and images, so this list does not give a complete picture of the complexity, layout, or depth of the hybrid book. But still, our ashes are scattered "out there," and I am very fortunate for all of these publications. I'm not sure about the future of the book, but I am hoping the universe connects it to an ethical publisher who cares about suicide, queer issues, and grief. We'll see.
I'd love it if you lit a candle for Max today.
There's no universal thing I can say about suicide except that many suicides are preventable . . . And I think all suicides constitute a call for kindness. These are difficult times . . . Check in with your people.
11-Month Post-Suicide Vacation Poem | Isacoustic
Airport Meeting | Eunoia Review
Aldi: Simple Things | North Dakota Quarterly
All the Dead People on Social Media Haunt You | Lumiere
Alternative Thanksgiving | Lumiere Review
And So On in a Week | Entropy
Dead People Don't Dream Hamburgers | Eunoia Review
Don't Call me Noo Noo | Lunch Ticket
Drunk Michigan Mermaid Sings to the Dead | Hobart
Five for | Feral Poetry
Final Journey: Leaving the Tenement | Anti-Heroin Chic
Haibun: Love Song for My Lemon Hare | Entropy
I Appeared in Your Suicide Dream | Spillway
Imayo: Her Soul Becomes Weary | Harpy Hybrid Review
In Other Countries | Anti-Heroin Chic
I Still Talk to You Two Years Later | Harpy Hybrid Review
I Was Told There'd Be No Service | Harpy Hybrid Review
Magpie Draws its Sorrow Line | Lunch Ticket
Magpies Dazzling | Lunch Ticket
Max, Carrie's Mother | Anti-Heroin Chic
Max's Bedroom | Dreich Magazine
Mourning Aubade | Amethyst Review
Not on the Railroad Tracks | Bending Genres
November Betrays All Jiltings | Eunoia Review
Ponds | Entropy
Reversals: May 18, Nine Months In | Diode Poetry
Sad Navigations of Passerines | Isacoustic
Six for (Post-Partum) | Anti-Heroin Chic
Skins | Chiron Review
Slippery Gods | Prelude (fc)
Soft Address to the Bottleneck: In Stillpoint Two | Amethyst (fc)
Space Mermaid | Chiron Review
Still Life w/Cherry Tomatoes and Singing Bowl | Rat's Ass Review
Suicide Suit | Anti-Heroine Chic
Through the Body's Bramble | Feral Poetry
Twelve Past Dead | Lumiere Review
What Becomes, the Hawk | Amethyst Review
What Max Said Before Climbing into her Spaceship | Feral
Without You | Dreich Magazine
You, Drawing | Hobart
You, Earth | Up the Staircase Quarterly
You Kant Take it With You | Five Points
You, Me and Matthew Arnold | Dreich Magazine
Your Voice, Ours (Seven for) | Dreich Magazine